About South Sound Paranormal Research
South Sound Paranormal Research serves homeowners and businesses in Southwestern Washington and Northwestern Oregon.
As paranormal investigators, we document everything. If it moves, makes a sound, causes ambient temperature/pressure changes, or even if someone sneezes... it's documented. We seek natural causes first by whatever means possible before turning to paranormal explanations.
We consider our client first and use the time allotted to us as efficiently as possible. We are dedicated to client confidentiality. We normally wear shirts with our logo and the name of the investigator on the front, but can be discrete at the clients' request.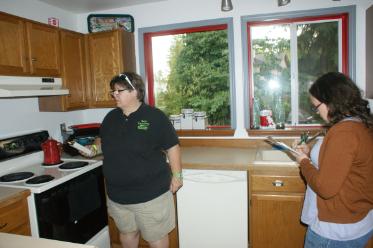 Patty and Jenny investigate a private residence.
A Paranormal Research Team You Can Trust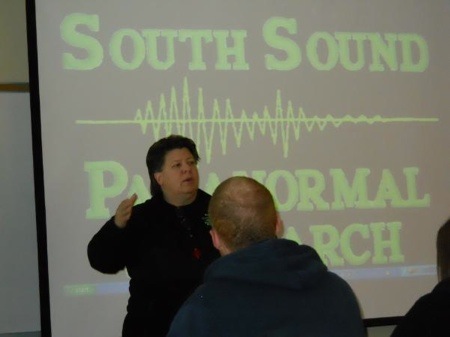 Patty lectures at St. Martin's College in Olympia
As paranormal investigators, it is our mission to be client focused. We conduct a criminal background check for all of our team members. We want you to feel safe when we come into your home or business, so it is important that each of our team members is an honest person with a great deal of integrity. Many of our investigators hold positions of trust in their day jobs, working for government agencies, police forces, and child advocacy groups, among others.
When SSPR investigates your location, we do so after a comprehensive consultation. Following the investigation, we provide a detailed report that includes any audio, video, or photographic evidence, as well as documentation of personal experiences. All of our findings are confidential.
At SSPR, we never charge for paranormal investigation or research. We seek to educate our clients and help them find ways to manage the anomalous activity they experience.
Experienced Paranormal Investigators
Members of SSPR are extremely active in the paranormal and metaphysical communities. People on our team frequently receive requests to lend their expertise to other projects.
Karen, Patty, and Andy spoke about haunted Lewis County at the Centralia Library.
Karen worked with Patty and the entire SSPR team to publish an account of their six-year investigation at the Lewis County Historical Museum. Pick up a copy of Pioneer Spirits: Investigating the Haunted Lewis County Historical Museum today!
SSPR team members Patty and Billi appeared as paranormal experts on the feature documentary Montgomery House: The Perfect Haunting.
Patty and Billi appeared on an episode of the Biography Channel's My Ghost Story in a segment about the Lewis County Historical Museum.
Karen's newest book, Crystals for Healing is available on 11/11/15.
Karen appeared on the Travel Channel's Mysteries at the Museum in a segment about the 1910 Wellington, Washington avalanche that killed 96 people.
Karen has also written three books about her afterlife research, Avalanche of Spirits: The Ghosts of Wellington and Dancing with the Afterlife: A paranormal memoir. She also co-wrote a book about past life regression hypnotherapy called Lessons of Many Lives.
Karen is a writer for Paranormal Underground Magazine and the host of Paranormal Underground Radio: In the Dark with Karen Frazier and Chuckie G. on the HeyZ Radio Network. In that capacity, she has interviewed experts in the field such as parapsychologists Dr. Barry Taff, Dr. Raymond Moody, and Loyd Auerbach. She also writes two monthly columns for the magazine, Metaphysics and Energy Healing and Dream Interpretation.
Members of SSPR Karen and Patty sat on and moderated panels at Crypticon Seattle.
Melinda has her M-DIV and is a Lutheran pastor.
Karen holds a Bachelors and Masters in Metaphysical Science (BMsc & MMsc) and a PhD in Metaphysical Parapsychology. She is an ordained metaphysical minister with the International Metaphysical Ministry, and holds a metaphysical practitioners diploma.
Jenny and Andy are Usui reiki practitioners, and Karen is a Usui Reiki Master/Teacher.
Members frequently speak at paranormal conferences about an array of topics.
SSPR was the first team to investigate two of Washington's most haunted hotspots: the USS Turner Joy and the Lewis County Historical Museum.
SSPR has led or participated in kids' ghost camps to teach the art of paranormal investigation to a new generation.
SSPR spoke in a college level psychology class about the paranormal at St. Martin's College.
Melinda writes a column for Paranormal Underground Magazine about religion and the paranormal.
Karen and Patty recently sat on a panel at the Oregon Ghost Conference with other leaders in the field including Michael White of PRI, Ben Robison of Autonomous Studies of the Enigmatic & Paranormal, Casey Goodwin of Oregon Paranormal, and Patrick Doyle and Jay Verburg of SyFy's Ghost Mine.
Tacoma - Puyallup - Olympia - Steilacoom - Centralia - Chehalis - Longview - Kelso - Kalama - Vancouver - Gig Harbor - Portland
Wherever we are called to help