Personal Paranormal Experiences
Flying Pen at the Lewis County Historical Museum, Chehalis, WA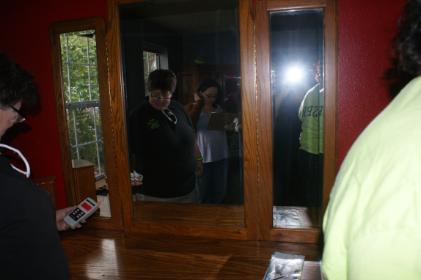 Investigating a private residence
In 2011, the director of the Lewis County Historical Museum in Chehalis, Washington contacted SSPR and asked several of us to come down for a quick investigation. While we'd investigated the museum many times before, something had changed. As part of a funeral display, the museum brought in two horse-drawn buggies - a hearse that transported coffins, and a hack used for transporting the bereaved. Since the two items had entered the museum, the activity had changed and seemed to take a slightly darker turn.
SSPR members Patty, Karen, Billi, and Tonya came within a few days and prepared to investigate after the museum closed. We brought only hand-held equipment (a couple video cameras, a few film and digital cameras, and audio recorders), and we set up in the main gallery of the museum looking down the corridor. We'd been there for a few hours, sitting on a bench watching weird figures move in a laser grid we set up in the next gallery. All of us sat on a bench together, and there was no one else in the museum with us at the time.
Suddenly, there was a huge bang. It was so loud, we actually thought someone had shot out one of the windows in the museum. As we got up to explore, Patty saw a dark figure near the front desk and then felt someone touching her back firmly. We turned on the lights and walked all around the inside and outside of the main gallery to see if something had hit and broken one of the museum windows. All were intact.
We discovered a pen on the floor near one of the display bays. Photos from before the incident showed the pen wasn't there, and photos from just after the incident showed it was. Further examination showed the pen at the sign in register was missing, and we'd all used it to sign in earlier. Our best guess is something tossed the pen with great force from the front desk at a glass display case just behind us (a distance of about 10 yards). It struck the display case with great force, bounced off, and came to rest next to the display bay.
As we walked through the museum after the incident, Karen felt a very solid poke in her side. She turned to the museum director, who was behind her, to see if she'd poked her. Just as Karen was asking, the director also felt a solid poke in her side.
Personal experience from Karen - Wellington, WA
In October of 2012, members of SSPR and Western Oregon Organization of Paranormal Investigation (WOOPI) went up to the site of the Wellington avalanche. It was a really rainy day. It was also fairly cold. Since Wellington is an outdoor site, we set up at one end the trail's half-mile long snow shed, which is a tunnel like structure made from concrete that was built to protect trains from avalanches. We built a fire and took turns walking in the snow shed. I was with a small group that included Billi and Jenny, and we were headed east back to the fire when I saw a figure about 20 yards away. It was a small woman - not a child - in period dress. She was as clear as if she was a real person, but her clothing wasn't right for the era or the weather. She was there for a good couple of seconds before she disappeared.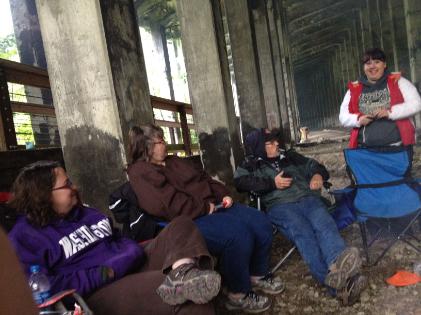 Jenny and members of WOOPI warm up by the fire during a late October visit to Wellington.
Tacoma - Puyallup - Olympia - Steilacoom - Centralia - Chehalis - Longview - Kelso - Kalama - Vancouver - Gig Harbor - Portland
Wherever we are called to help